Recipe
Pancakes with greek yoghurt, strawberries and honey
8 ingrediens
4 servings
8 ingrediens
4 servings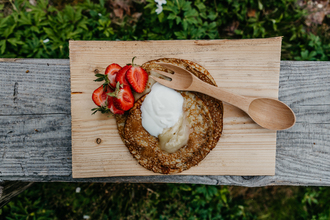 Recipe
Pancakes with greek yoghurt, strawberries and honey
Ingredients
Pancakes:
3 eggs
3 dl wheat flour
6 dl milk
1 tsp salt
25 g butter for cooking
Toppings:
4 dl Greek yogurt
1 l strawberries
4 tbsp honey
Step-by-step
Step 1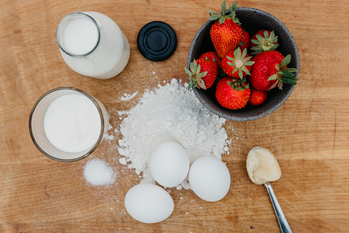 Whisk egg, flour and half of the milk
together into a smooth batter.
Add salt and the rest of the milk.
Prepare the pancake batter beforehand
and bring it in a thermos or a bottle.
Step 2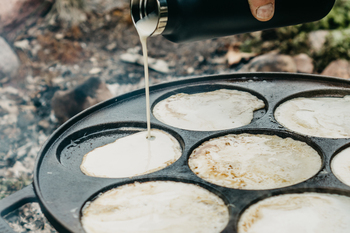 Place the pan over the fire and cook
the pancakes in butter until they are brown.
Serve with strawberries, Greek yogurt
and honey.