Recipe
Paella with chicken, seafood and saffron
17 ingrediens
4 servings
17 ingrediens
4 servings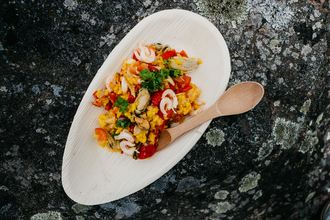 Recipe
Paella with chicken, seafood and saffron
Ingredients
500 g grilled chicken fillets
½ dl coarsely chopped fresh parsley
Rice:
2½ dl arborio rice
1 yellow onion
2 clove of garlic
40 g butter
0.5 g saffron
5 dl water
1 cube of chicken stock
Step-by-step
Step 1
Prepare the rice:
Peel and chop the onion and garlic.
Fry in butter for a few minutes and
then add saffron, chicken stock, rice
and half the water. Stir and continue
adding water as it absorbs into the rice.
Allow to simmer on low heat under
a lid for just under 20 min.
Step 2
Peel the shrimp and cut the chicken fillets
into strips. Drain the mussels.
Step 3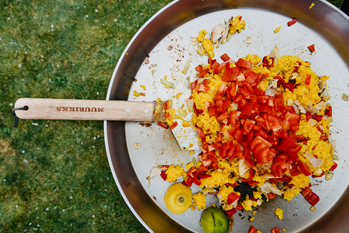 Cut lemon, tomatoes and peppers into pieces.
Melt the butter in the paella pan and fry
the peppers for 2–3 minutes.
Reduce the heat and add the cooked rice.
Step 4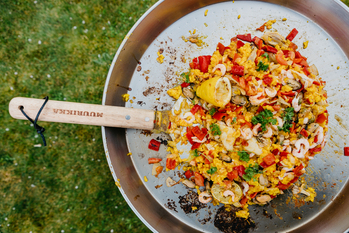 Stir in lime juice and sambal oelek.
Add more water if necessary. Mix the chicken,
shellfish, lemon and tomatoes into the rice.
Step 5
Cover and heat through. Garnish with
parsley and serve the paella from the pan.